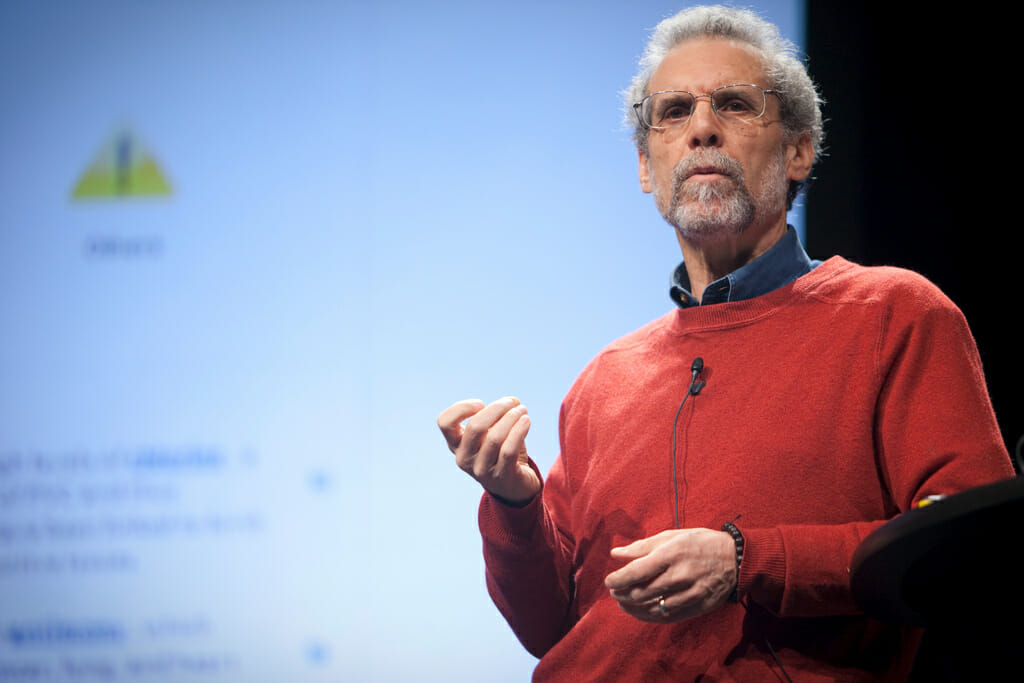 "Emotional Intelligence, a different way of being smart, is a key to high performance at all levels, particularly for outstanding leadership. It is not your IQ; it's how you manage yourself and your relationships."

— Dr. Daniel Goleman
Emotional Intelligence training teaches you: 
• Simple yet effective methods to increase your focus
• Practical life and work skills to achieve what matters to you
• Effective strategies to make the best decisions even in stressful situations
• How to keep your calm and communicate constructively in emotionally challenging interactions
The Emotional Intelligence training model utilizes proven methods to bring about lasting behavioral change. It incorporates cutting edge insights from neuroscience and psychology. And it is based on state of the art business research on what distinguishes high performers and outstanding leaders from average ones. Developing your Emotional Intelligence helps you enhance all the life and work skills that are indispensable to be successful in today's complex, fast paced and volatile world.
Emotional Intelligence helps you stay focused on your most important goals. It shows you how to deal with stress, collaborate effectively in teams, and unlock your creativity.
Emotional Intelligence is not a fixed trait like IQ. It is a set of skills that can be developed. And even more important, EI training not only furthers career advancement and personal development, but also supports the overall growth and well-being of the person. As you increase your Emotional Intelligence, every aspect of your life will improve, bringing you more joy, fulfillment, and well-being.
"I've had the opportunity to be exposed to a myriad of leadership, professional, and personal development frameworks; EI is the one that resonates most and has the broadest application across all dimensions of my life, and the lives of my clients."

— Dot ProuxMeta-Coach for the Daniel Goleman Emotional Intelligence Coaching Certification Program
What is Emotional Intelligence?
Emotional Intelligence Isn't a Fixed Trait – It's Skills
Emotional Intelligence is the ability to tune in to our feelings and those of others, and to effectively manage yourself and your relationships.
The foundational skills of Emotional Intelligence are: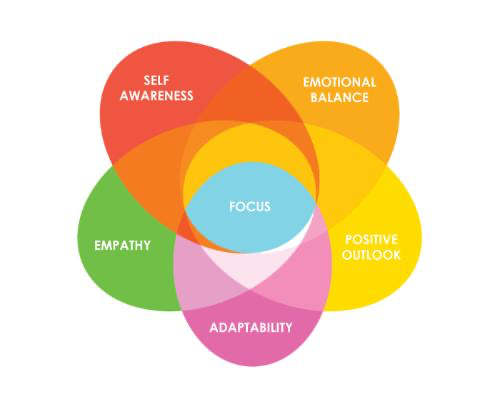 These foundational skills are a set of inner competencies that can be cultivated. We have them as basic abilities and through training we can enhance them. Doing so will make us more effective in our life and professional work.
Unlike IQ your emotional intelligence is not a number but a profile of strengths and development potential over a range of EI related competencies. Dr. Daniel Goleman's model groups your emotional intelligence abilities into four different areas:
Self-Awareness

Self-Management

Social Awareness

 

Relationship-Management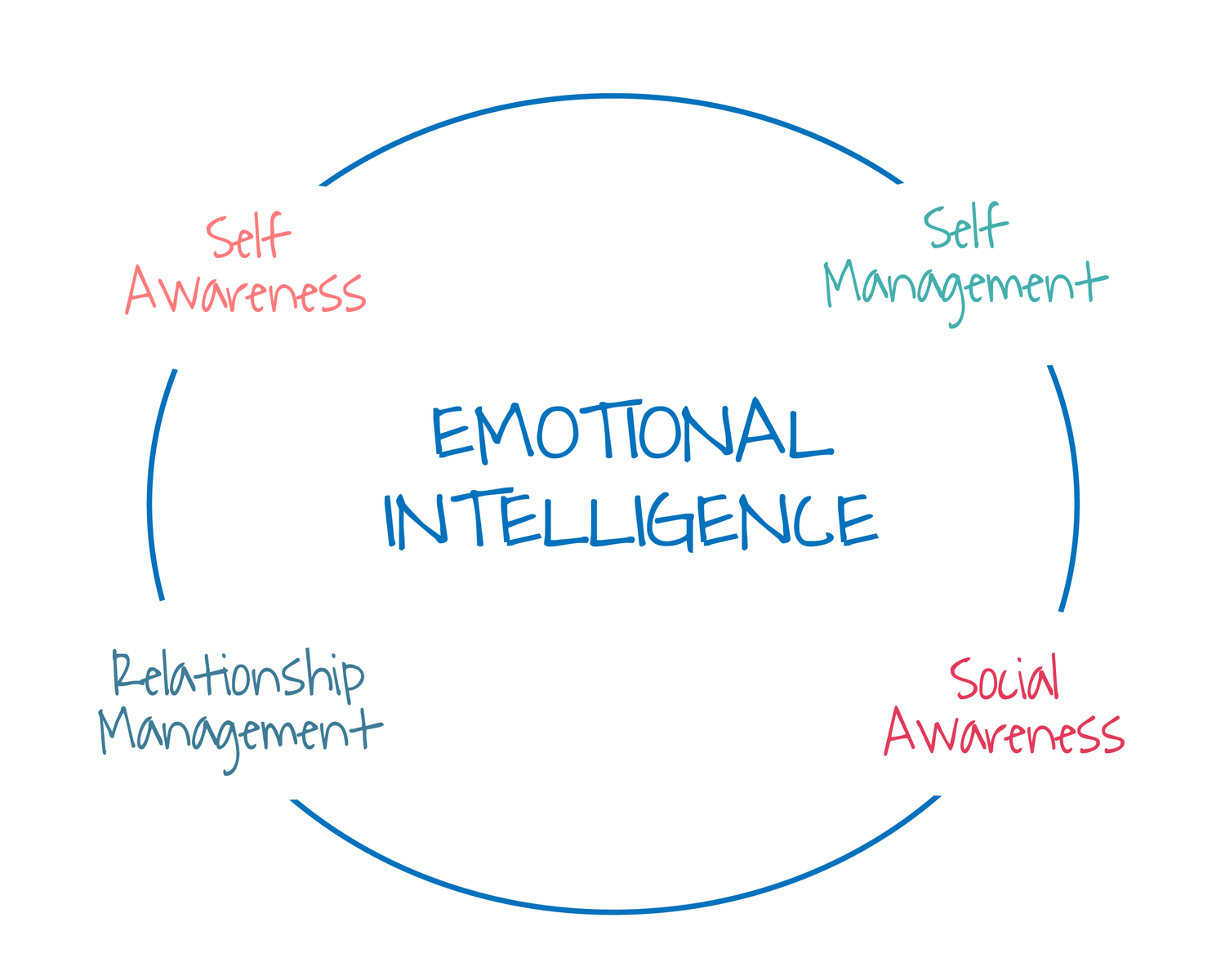 And within each of these four domains, there are 12 competencies which can be trained individually.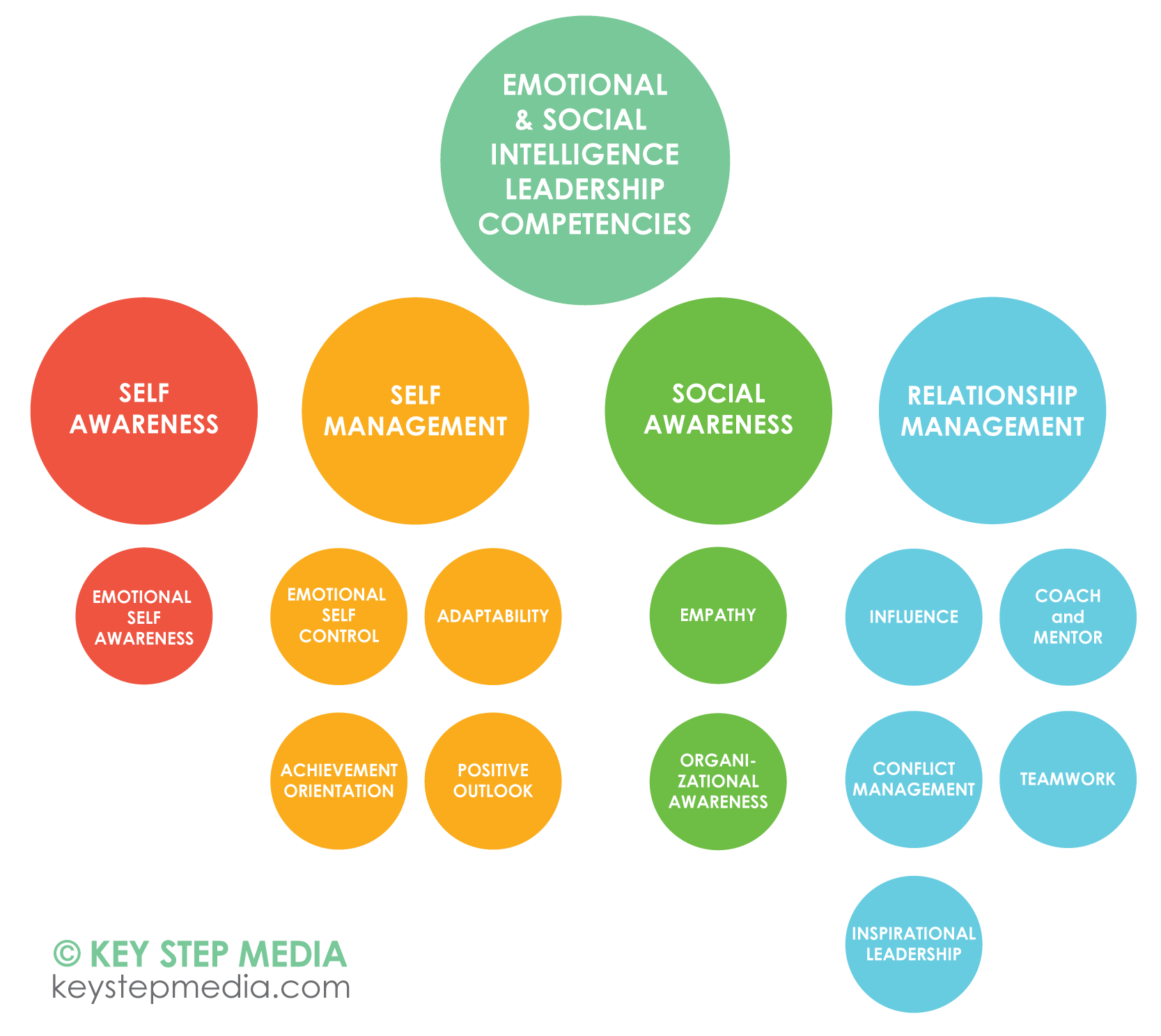 Business studies show that these 12 competencies are exactly the abilities that are related to outstanding performance and leadership in the workplace. And they also are the foundation for wellness and fulfillment in your personal life.
Why do we need EI?
Emotions have a crucial impact on how you think, behave and make decisions. The way you experience and feel emotions and how you express them is influenced by how developed you are in the EI competencies.
Emotional Intelligence helps you to better understand your own emotions and express them appropriately, as well as better understand the emotions of others.
Emotional awareness allows you to communicate more effectively; by understanding the emotional state of the other, you can respond constructively to each situation.
In this sense, EI helps you build more meaningful relationships by allowing more understanding, empathy and better communication with co-workers, friends and family.
How can we increase our EI?
Good News: EI competencies can be trained
!
We all have the ability to increase our Emotional Intelligence. Our EI competencies can be assessed objectively, behaviorally—everyone can see whether you have them. You know when you're using them. The best news about EI is that these skills can be cultivated and improved by anyone. Here is how they can be developed: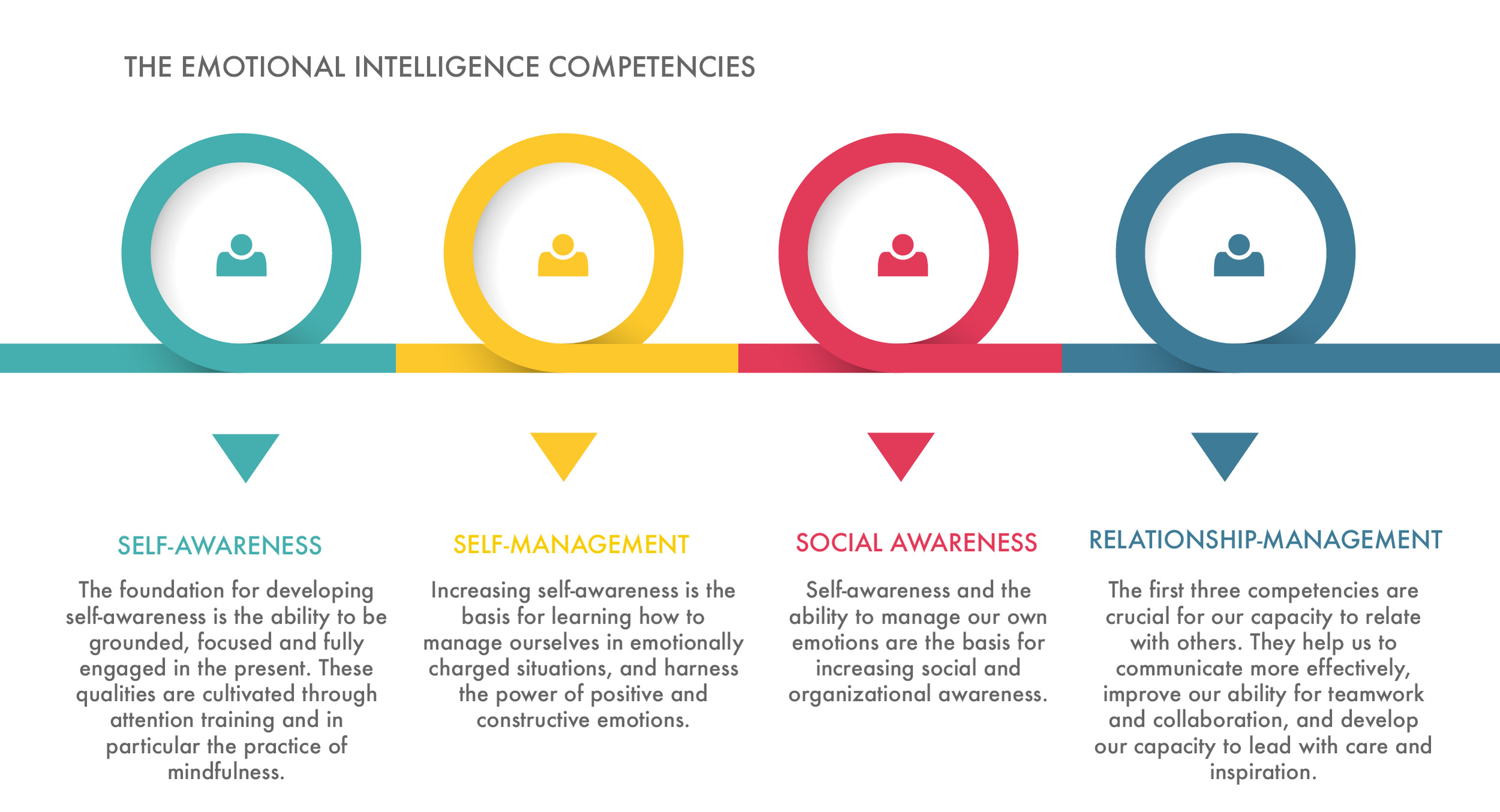 Benefits of EI
EI training has been proven to reduce stress and improve focus, empathy, communication and resilience. It enhances mental clarity, creativity and emotional balance and the ability to manage challenging situations. The result is increased wellbeing, a better capacity for teamwork, and outstanding leadership.
Developing leadership capacities is useful for anyone regardless of whether they are in an official leadership role or not. Leadership skills will help you be more fulfilled and successful in your own life. In a way we are all leaders. We leaders of our own life. How we are and act has an effect on the people and the world around us. We can positively influence others by how we interact with them as friends, partners, teachers, mentors, or managers.
Developing your EI will empower you to take charge of your life, learn to take better care of yourself and discover a deeper sense of fulfillment, balance, self-reliance and freedom.
Understanding the benefits, would like to find out how you can get started increasing your EI?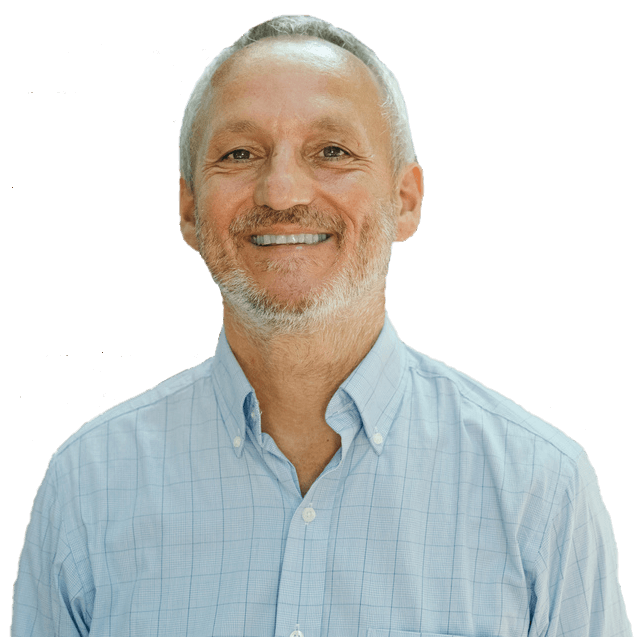 "I have been very fortunate to study with some of the world's best mindfulness and Emotional Intelligence teachers.
The tools I learned have helped me personally manage stress, overcome anxiety and create a successful, fulfilling and meaningful life. And my extensive training and over 25 years of experience teaching people enable me to skillfully guide you to do the same and achieve your goals."
Bernie Schreck, M.A.


Founder & President of MBEID
Goleman EI Certified Coach
Search Inside Yourself (SIY) Certified Teacher
Mindfulness-Based Stress Reduction (MBSR) Teacher